Print Without Barriers
The UK's Largest Dedicated Print Show
Building a successful future in print
Operating under the line 'Print Without Barriers', The Print Show is committed to helping visitors discover new opportunities for their business, demonstrating that print is so much more than simply putting ink on paper. With access to exhibitors from all corners of the industry, all free of charge, The Print Show is an event that cannot be missed.
The Print Show is now established as the most important and best-attended industry event in the UK, and is still the only exhibition entirely dedicated to the UK print sector. The Print Show is the primary meeting point for the market, offering visitors the opportunity to see the latest technological developments, meet and network with peers, and access advice from some of the leading experts in print.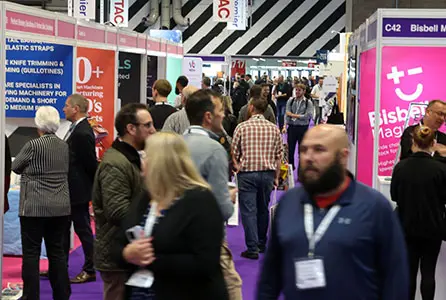 The Print Show has closed its doors for another year after three days of visitors and exhibitors connecting thanks to print and its many associated sectors. Organisers have now confirmed the dates of the 2024 show will be September 17th, 18th, and 19th at the NEC in Birmingham. Due to the success of the 2023 exhibition, many of this year's exhibitors have already signed for the 2024 edition. The first…
MEET OUR SPEAKERS
The Print Show gives visitors access to more than 20 specialist business coaching, sales training, and technical insight sessions free of charge at the Business Seminar Theatre.
The Print Show Gala Dinner
Both exhibitors and visitors at The Print Show this year will have the opportunity to attend a special gala dinner event on the middle day of the exhibition, allowing them to meet up with and network with peers, partners and colleagues from across the industry.
Taking place at the iconic National Motorcycle Museum on the September 18th, the gala dinner event will bring together some of the leading names in UK print for an evening of festivities and celebrate the UK print industry. Attendees will enjoy a three-course sit-down meal as well as musical entertainment.
With capacity limited to just 300, be sure to book your tickets early for what is expected to be an incredibly popular event! Ticket booking will be available shortly.